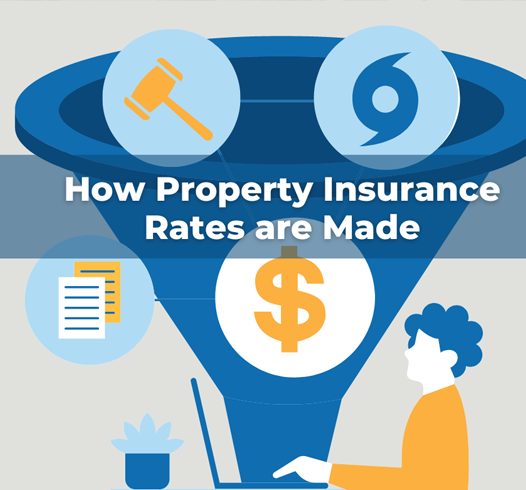 FOR IMMEDIATE RELEASE
Property Insurance Check Up: How Insurance Rates are Made
As Recent Legislative Reforms are Implemented, A Look at Rate-Making 
TALLAHASSEE, Fla. (October 9, 2023) – As recently enacted property insurance and civil justice reforms are in the process of being implemented, the Personal Insurance Federation of Florida (PIFF) has released a resource highlighting how rates are made, and outlining key factors that determine the cost of insurance. 
"While comprehensive legislation to address abusive litigation in Florida should unplug the lawsuit-for-profit machines – which have strained the property insurance market for years – the full effects of the law changes will take time to be realized," said PIFF President and CEO Michael Carlson. "There is a significant property insurance lawsuit tail driven by the last-ditch effort to game the system before the ink was dry on Senate Bill 2A in December of last year, and those cases will take time to go through the courts."
PIFF's infographic is designed to demystify a complex legal and regulatory process so that consumers have information on what factors are included in their premiums. In addition to the costs of lawsuits, PIFF's infographic lays out other key factors and highlights each step in the rate-making process. Ratemaking is controlled by Florida law, which sets specific standards for rates. For example, insurance rates cannot be excessive, inadequate, or unfairly discriminatory. An insurer evaluates several factors when determining the rate it needs, including:
Everyday claims payments

Claims adjusting expenses (including litigation costs)

Expected hurricane claims

Premium and loss trends (including inflation and increased repair costs)

Reserve development

Reinsurance costs

Agent commissions and other acquisition costs

Company overhead and taxes

Profit margin (as approved by the Florida Office of Insurance Regulation)
All these factors must be filed with OIR, the agency charged with regulating insurance companies in Florida. OIR must determine whether the factors are actuarially justified before approving a rate change. 
"In addition to litigation costs, inflation and home values have risen, adding to pressure on insurance rates," added Carlson. "When home prices, repair costs, and building materials increase, so do rates. The best solution to increasing premiums is a healthy and competitive insurance market."
To monitor the state of the market, Carlson says to look out for announcements of new insurers writing property insurance in Florida. Another signal will be the shift of policies from the state-backed Citizens Property Insurance Corporation to the private market. A shrinking policy count at Citizens is a sign of a growing private insurance market – this transition of risks from the state to the private market is sometimes referred to as "depopulation." So far in 2023, 482,399+ Citizens' policies have been approved to enter the private market through depopulation. 
The Florida Senate Banking & Insurance Committee is scheduled to meet Tuesday, Oct. 10, 11 a.m., and will hear presentations on Florida's property insurance market by Michael Yaworsky, commissioner of the Office of Insurance Regulation, and by Tim Cerio, president, executive Director and CEO of Citizens Property Insurance Corporation. 
For more updates on the health of the insurance market since reforms were passed, view PIFF's latest market pulse available at PIFF.net. 
About PIFF
The Personal Insurance Federation of Florida, Inc. (PIFF), is a leading voice for the personal lines property and casualty insurance industry in Florida. PIFF represents national insurance carriers and their subsidiaries, including many of the state's top writers of private passenger auto and homeowners multiperil insurance. Together, PIFF members write more than $13 billion in premium in the state. PIFF advocates for a healthy and competitive insurance marketplace for the benefit of Florida consumers. Follow us @PIFFNews. Visit PIFF.net to learn more. 
# # #