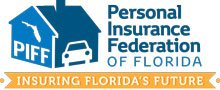 Pardon the Interruption! The PIFF Website is Undergoing Updates.
Thank you for visiting PIFF. We are working on our website to bring the greatest value to our members and to Florida. Check back soon for more details.
To contact us feel free to send an email to info@piff.net.
Thank you!
Personal Insurance Federation of Florida
(850) 597-7425
215 South Monroe Street, Suite 835
Tallahassee, FL 32301